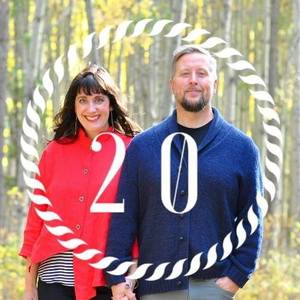 We can't believe it has been 20 years since "Birth" was released! We are so blessed to have had such a longstanding, loyal fan base and to have shared music with audiences all over the world since our launch in 1997. We want to say thank you with an album to commemorate the past 20 years of our music. We will record fresh takes of Barry & Michelle classics and release some new songs as well.
In 1997, we released our first album, "Birth," in conjunction with the birth of our first child, Russell. It was the launch of our music career, our ministry, and our little family. Because of the stunningly warm reception for "Birth," we became connected with so many amazing people. Twenty years, eight albums and four babies later, the same folks who encouraged us at that beginning are cheering us on today. We still have fans come to shows asking for songs from way back in our archives. We feel incredibly fortunate to have been able to make music for this long, and it is all because of our fans, friends, and supporters. To every person who has bought a cd (or tape!), sung one of our songs in church, passed around one of our chord charts, showed up to a concert, hosted a house show, downloaded an mp3, told their friends about us and supported us in any way…we want to say thank you.
We want to record an album that will mean something really special to our outstanding fan base. We want to re-record your favorites (polls are coming) and fill your ears with a few new Barry & Michelle sounds. We want you to remember what a song meant to you and experience it all over again. We want to say thank you by paying homage to songs that you have loved for years. We want to give them to you again, to fold into the days you are living now.
CLICK HERE TO GET TO OUR INDIEGOGO CAMPAIGN PAGE TO LEARN YOU HOW CAN HELP US MAKE THIS ALBUM AND HOW YOU CAN EARN A DIGITAL COPY OF THIS ALBUM FOR FREE!